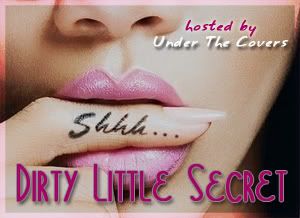 Dirty Little Secret is a weekly meme hosted by us at Under the Covers. Every Thursday they get to know other bloggers and our readers more intimately by asking them a question hoping to reveal their dirty little secrets.
To participate in the meme all you need to do is:
1. Be a follower of Under the Covers.
2. Create a post in your blog taking the meme image and copy instructions.
3. Answer the question they propose! This can be done in any way you like, post a video, write a post etc.
4. Add your link in their post!
Book abuse! What's the worst thing you've done to a book.
Actually, books are pretty safe with me as I'm very good with keeping them in great condition. I don't dog-ear pages, I don't roll-over them during the reading... Nothing that can damage the book in any way. BUT I have all paperbacks (with just a few exceptions) and let's face it, they're definitely more delicate than hard copies so, despite the fact that I'm super-careful with not breaking their spines, it happened twice. :( I'm sure everyone of you understands how hurtful it is when that happens... *Sigh*
What about you?
What's the worst thing you've done to a book?