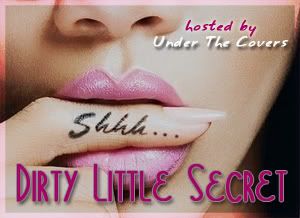 Dirty Little Secret is a weekly meme hosted by us at Under the Covers. Every Thursday they get to know other bloggers and our readers more intimately by asking them a question hoping to reveal their dirty little secrets.
To participate in the meme all you need to do is:
1. Be a follower of Under the Covers.
2. Create a post in your blog taking the meme image and copy instructions.
3. Answer the question they propose! This can be done in any way you like, post a video, write a post etc.
4. Add your link in their post!
What is your take on anthologies? Love them? Hate them? And what is the last anthology you've read and enjoyed?
I'm not too much into anthologies, but I do read some from time to time and they're surely good to discover new favourite authors of yours. I honestly prefer to read anthologies of a single author because it helps me concentrate on their writing better and see if I really like their style and want to read more of their works. I don't have any kind of problem with the length of a book. In fact, I'm a strong believer of
quality
over
quantity
that makes something really great and I'll never stop pointing that out. Of course, there are disappointing episodes on the road, but that happens with novels, too, so my point perfectly stands.
Now, do you want to read a high quality anthology? Then pick up "Submissive Fairy Tales" by Kitty Thomas and prepare to be amazed by every novella in it!
THE AUCTION
Belle Walker lives in a strict society where women are treated as property, sold to the highest bidder soon after their eighteenth birthday. But the auction isn't the only danger. Though she's never seen them, she knows monsters live outside the city. These creatures have allowed the humans a small area to inhabit with the promise to leave them in peace as long as they never cross the boundary. On the day Belle is sold, one of the monsters breaks that promise and enters the city, intent on having her as his own.
WARNING: This book is intended for an adult audience and contains master/slave, multiple partners, girl on girl, alien sex, and oral play.
AWAKENING
Nerina has lived all her life as a mermaid, fascinated by humans and land but also repulsed by sex and unable to understand love. Her curiosity gets her captured by a human male intent on awakening her lust and turning her human. But Nerina doesn't believe the legend is real and fears Kyros will kill her when he learns she can't transform.
THE KING'S PLEASURE
In the kingdom of Himeros, Abigail is despised for her gypsy heritage. Pushed to the fringes of society, she's forced to break the law in order to help feed her family. When a castle guard catches her stealing bread, he intends to cut off her hand for the offense. Niall has just taken the throne and is determined to prove he isn't a monster like his father. Awakened by the cries of a gypsy, he spares her from the guard's blade and takes her as his slave instead. When he learns she doesn't understand the kingdom's carnal ways, he becomes determined to strip her of all inhibitions until her every desire is in service to the king's pleasure.
DISCLAIMER: This is a work of fiction, and the author does not endorse or condone any behavior done to another human being without their consent. WARNING: This book contains master/slave, group sexual activity, mild sadomasochism, oral and anal play, exhibitionism, and voyeurism. AUTHOR'S NOTE: This story exists in an alternate world that is not part of our history. You may notice a blend of some modern technology (electricity and running water), with an old world feel. This is by design.
What about you?

What is your take on anthologies a
nd what is the last one you've read and enjoyed?