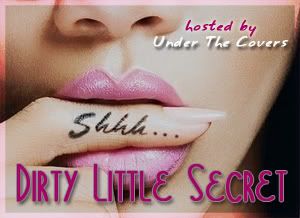 Dirty Little Secret is a weekly meme hosted by us at Under the Covers. Every Thursday they get to know other bloggers and our readers more intimately by asking them a question hoping to reveal their dirty little secrets.
To participate in the meme all you need to do is:
1. Be a follower of Under the Covers.
2. Create a post in your blog taking the meme image and copy instructions.
3. Answer the question they propose! This can be done in any way you like, post a video, write a post etc.
4. Add your link in their post!
It's blogger appreciation week... Tell us which bloggers/reviewers would you like to meet in person?
There are many bloggers/reviewers I would like to meet in person, but I confess I have a personal Top 3:
Michelle @ Much Loved Books -> I think I can talk for her too when I say we instantly connected and I couldn't be happier about that, she's simply great! *We keep missing each other at the last minute, hon, we absolutely need to fix that once and for all!*
Vix @ TToria -> A lovely, strong girl who's an amazing mum, too, and of course a great reviewer! I love our chats and I love working with her every time we get the chance to. *I would be honoured to meet you in person, Vix! x*
Liz @ Fictional Candy -> Probably the best supporter ever who quickly became an amazing friend, as well! *One day we'll finally talk face to face, in the meantime a huge hug to you and Leah! :)*
What about you?

Which bloggers/reviewers would you like to meet in person
?